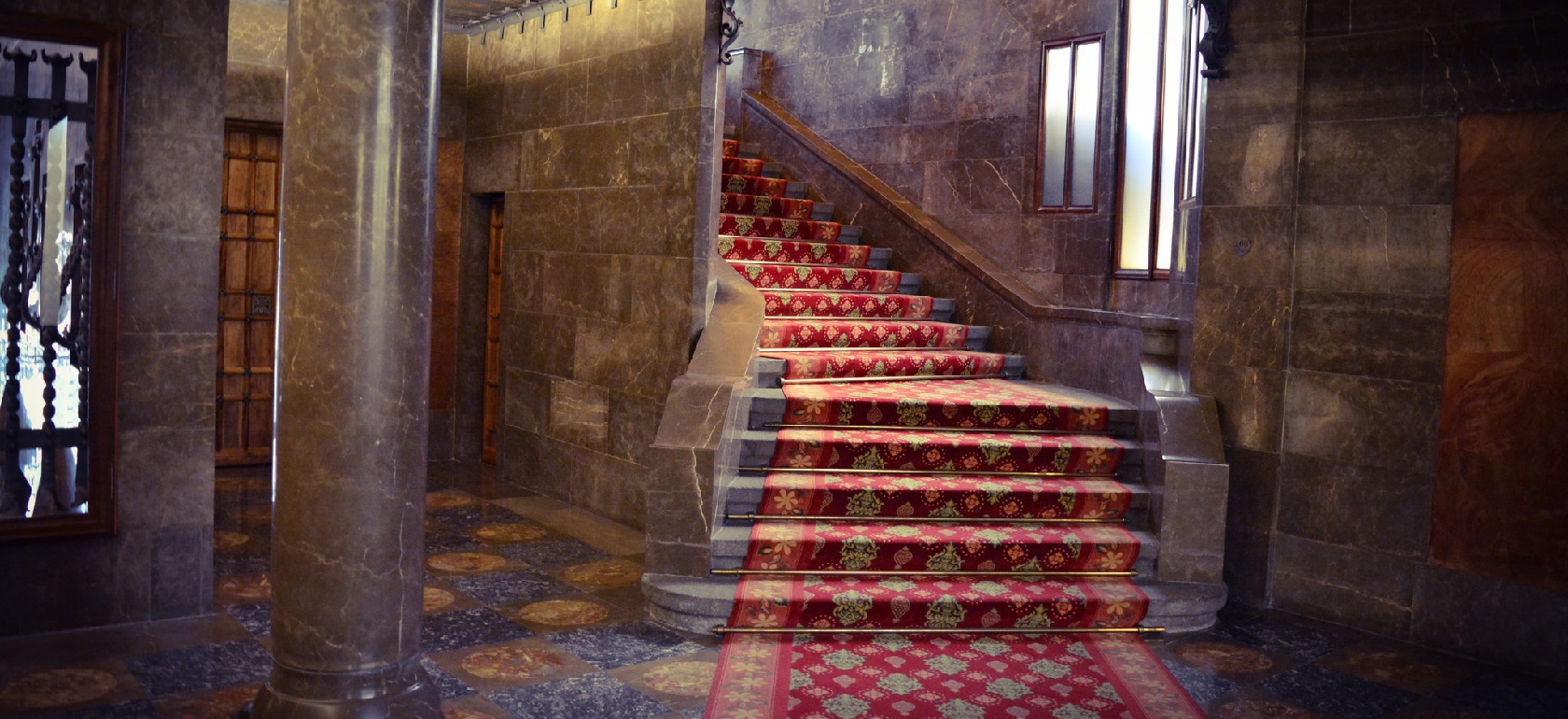 Palau Güell skip the line
To product
An exceptional building from Antoni Gaudí
Visit one of Gaudi's most famous constructions. Located in the heart of Barcelona, Las Ramblas, Palau Güell was an assignment from Eusebi Güell, an important catalan entrepreneur and bourgeois who invested a lot in Gaudí's career. The idea was to create an attachment to the family house in La Rambla.
The architect created a functional palace according to the family's requirements, both in day-to-day life and also to gather all the influencing and rich bourgeoisie of the time.
The avant-garde use of space and light are what makes this building so innovative. Constructed during Gaudí's orientalist period, it was inspired by architecture from the Middle East and Andalusia muslim period. He created a variety of expressive forms and shapes, all using luxury traditional materials such as stone, wood, pottery, clay, glass…
The palace was inscribed into UNESCO's world heritage list in 1984 due to its exceptional value.
How does it work?
Once you've completed the booking process we will send you the skip-the-line tickets to your email. Just go to the provided address and enjoy the attraction.
Audio guides
Audio guides are optional and are included in the admission price.
Palau Güell has an audio guide service. The following guides are available:
General audio guide in 8 languages (Catalan, Spanish, English, French, Italian, German, Japanese and Portuguese)
Express audio guide in 8 languages (Catalan, Spanish, English, French, Italian, German, Japanese and Portuguese)
Young people's audio guide in 7 languages (Catalan, Spanish, English, French, Italian, German and Japanese)
Audio guide with audio commentary for the blind and partially sighted in 2 languages (Catalan and Spanish)
Video guide in sign language for the deaf and the hearing impaired, in Catalan sign language and Spanish language
Audio guide with on-screen transcriptions for non-signing deaf or hearing impaired people
Opening hours
Summer (1st April to 31th October): 10:00 am to 8:00 pm (last entrance hour is 7.00 pm)
Winter opening hours (1st November to 31th March): 10:00 am to 5:30 pm (last entrance hour is at 4:30 pm)
Closed: Mondays, except public holidays, 25th and 26th December, 1st January and Third week of January (for maintenance)
Address
Carrer Nou de la Rambla, 3-5 08001 Barcelona
How to get there
Güell Palace is located in the Raval district of Barcelona. Here we have listed all the information necessary to make getting there easy:
By public transport:
On the metro: the closest metro station is Liceu, line 3.
By bus: the following buses have stops close to Güell Palace: 14, 59, 91, 120, Bus Turístic